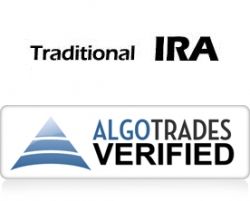 On July 8th 2014, we announced that AlgoTrades Automated Trading Systems became approved for IRA investing accounts.  This is a huge step forward not only for AlgoTrades as an algorithm trading company but most importantly for our clients.
Our IRA approved automatic investing system opens the doors to avoid annual taxation on gains, and allows those to have the majority of their investing capital tied up in their IRA to benefit from professional automated trading systems at the same time.
Automated Trading Systems – IRA Approved
"This is a huge step forward for our clients and individual investors as a whole. Being able to shelter investment gains from being taxed each year greatly increases the potential growth of our clients' accounts going forward. One of the reasons we decided to make TheFOXGroup our primary broker and support arm was because they are passionate about what they do and are not afraid to work hard," stated Chris Vermeulen, AlgoTrades CEO.
Here at AlgoTrades we strive to be the leader when it comes to new methods of investing for the average investor. Producing consistent gains is one thing, but being able to avoid being taxed on them is where this system really shines.
Read our recent press release about our IRA Approved Automatic Investing System
Click Here: http://www.pr.com/press-release/566002