Automated Trading Systems – The last thing your advisor wants you to know
The economic instability that starting impacting the global financial markets in 2008 changed the way many trading and investors look at that their financial advisors and brokers. These so called professionals were once considered expert wealth builders, but these people are now more often associated with educated salesmen pushing financial instruments which carry high commissions for themselves and to generate commissions for the firms.
And the last thing they want you learn about are automated trading systems which can can profit in rising, falling and even sideways trading markets.
Welcome to the shift from financial advisors to automated trading systems
The right automated trading systems allow you to be self-empowered, independent with the ability to turning your savings into real wealth.
The best part is that you can be making money completely hands free in just minutes. It's that simple.
If you can tell the difference between red and green this simple automated trading system which trades the SP500 index (ES Mini Futures can out perform the growth that your investments have seen over the last few years while at the same time reducing portfolio risk.
Not only does this automated trading system give you buy and sell signals tailored to the S&P-500 market, it also provides multiple trend analysis. That means the signals that are trading are backed up by several technical market indicators to give you a very solid, supported approach for any market condition.
You can watch our detailed explanation of how the AlgoTrade Automated Trading System predicts the e-mini S&P500 index in our next webinar later this month.
AlgotTrades is proud to announce our launch that starts Monday Feb 17th 2014 where everyday people – just like you – can learn to have your money traded like a professional without ever having to lift a finger. AlgoTrades will show you how to build a secure financial future without the help of any 'financial advisor' or having to learn any more about the stock market.
Learn More About AlgoTrades Automated Trading Systems
Just take a look at a simple trade made by our system this morning before the opening bell…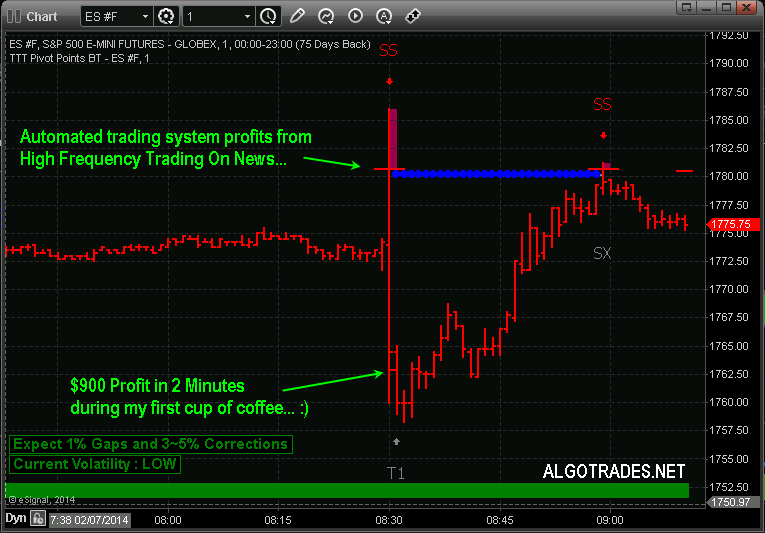 In just two minutes our automated trading system shorted the market, and covered its position for a quick $900 profit, or $450 per minute… however you want to look at it.
Use it in any market condition whether trending or not
Use this technical signal whether the market is going up, down or sideways.
Use the 7 Steps Chris uses that are necessary for effective trade design.
Better position your market entry and exit points to respond to quick movements in price.
No breakouts necessary – effectively trade even in a channel.
Learn Chris' foundation for his AlgoTrades trading system in his new book "Technical Trading Mastery – 7 Steps To Win With Logic
Automated Trading For The Smart Investor – AlgoTrades
http://www.algotrades.net/wp-content/uploads/2014/12/algotrades-logo-tm.png
0
0
Chris Vermeulen
http://www.algotrades.net/wp-content/uploads/2014/12/algotrades-logo-tm.png
Chris Vermeulen
2014-02-07 12:00:02
2014-02-07 12:00:02
Automated Trading Systems – The last thing your advisor wants you to know