Algo Trading System and Automated Trading Signals
This week the second issue of the our INNER-Investor newsletter will be emailed to you and posted online.
If you have not visited the INNER-Investor newsletter page to read the first issue visit and bookmark this link: http://www.algotrades.net/algotrades-inside-investor/
AlgoTrades is in the final stages of opening its doors to accept a small group of investors. We planned to open the doors Feb 2nd, but are held up with a few things on the administration side and have delayed opening the service by two weeks. We plan to open the doors Feb 17th. We apologize for the delay.
Also, we want to ensure peak performance from our algo trading system and trading results for our clients. We have a limited number of seats available for clients to ensure this. As with any good system, once everyone or too many people are using it the once profitable edge in the market will no longer exist. We understand this and trade the system with our own capital so we are going to monitor and protect our system to the best of our ability.
The system was built around trading the broad market indexes focusing on the SP500 futures (ES Mini) contract. Because we have a high demand and limited availability, only the ALGOTRADES-FUTURES system will be available.
This is not to say the ETF system will not become available down the road, but it is important to know that there are several fees/expenses in automated trading ETFs (securities) compared to futures trading. Trading derivatives of the futures market simply carries more risk, fees and potential issues and we only want the best for our clients, it's that simple.
Just a heads up… the stock market is now in a down trend and this will be covered the new INNER-Investor Newsletter…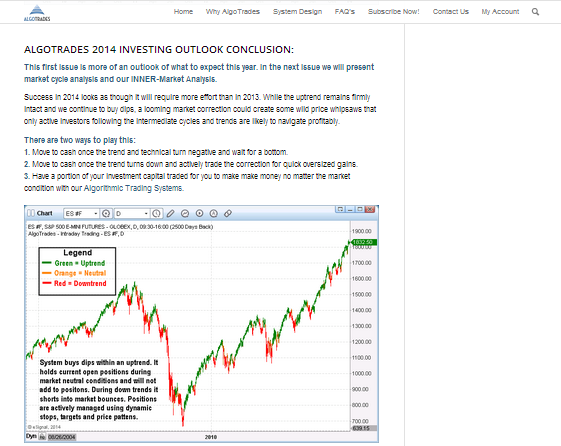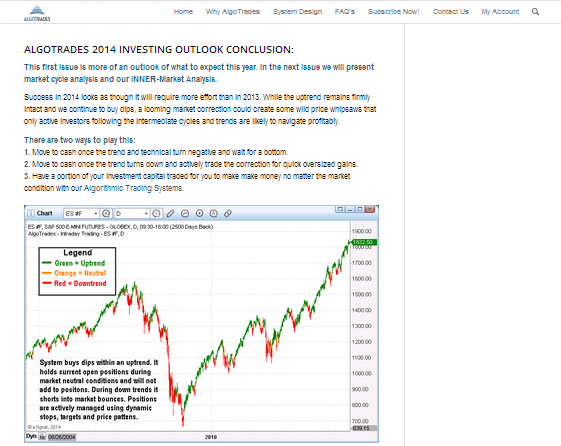 Sincerely,
http://www.algotrades.net/wp-content/uploads/2014/12/algotrades-logo-tm.png
0
0
Chris Vermeulen
http://www.algotrades.net/wp-content/uploads/2014/12/algotrades-logo-tm.png
Chris Vermeulen
2014-02-03 12:10:25
2014-02-03 12:14:04
Algo Trading System and Automated Trading Signals