About Automated Algorithmic Trading Systems and Linked-In
During the past couple weeks I have been heavily involved in some linked-in group discussions about algorithmic trading, back-testing techniques and what is the most challenging aspect of trading?
I would like to start by mentioning that the caliber of people within linked-in are by far the best in terms of speed of comments being shared, expertise in each topic in discussion, and is much more educational than anywhere else online.
While I am involved a lot with StockCharts.com with the #2 best free charts list online and I post a lot on StockTwits, linked-in sure is a great way to RECEIVE quality information on topics I enjoy like algorithmic trading and automated trading systems.
If you want to learn about any tops on Algo Trading and automated trading then Linked-in is the place. Because your profile/identity are seen by all readers and each group discussion is moderated you don't get badgered by negative and immature people which is what the type of individual as you find on all the free forums and automated trading chat rooms.
Anyways, in this post I really just wanted to share my new source for meeting like-minded traders and where to learn more about algorithmic trading with some of the best minds in the industry. Of course the best thing about it is that it's free!
Join me at Linked-IN: Click Here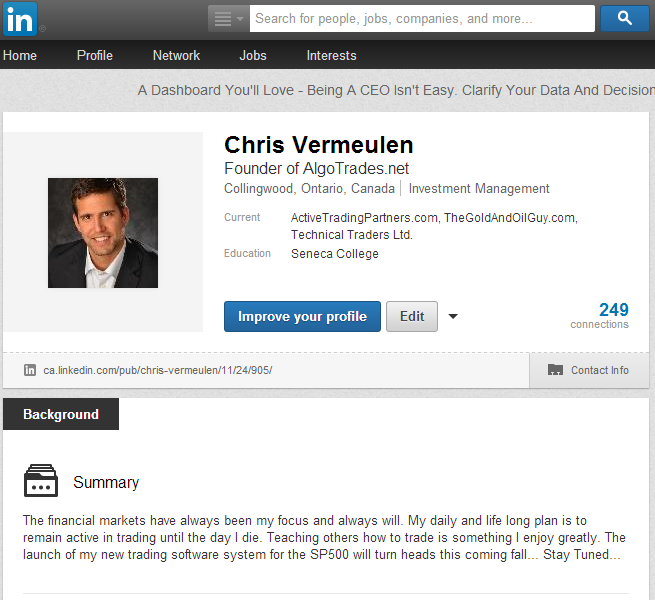 Chris Vermeulen
http://www.algotrades.net/wp-content/uploads/2014/12/algotrades-logo-tm.png
0
0
Chris Vermeulen
http://www.algotrades.net/wp-content/uploads/2014/12/algotrades-logo-tm.png
Chris Vermeulen
2014-02-02 13:45:00
2014-02-02 13:45:00
About Automated Algorithmic Trading Systems and Linked-In