AlgoTrades.net automated trading system has been given the TOS certification. The Collective2 "Trades-Own-System" earns subscriber trust. Very simply, subscribers trust systems when the system designer autotrades their own system and puts their money where their system is.


Collective2 has over 75,000 registered automated traders, can take clients from all over the world, and has over 323 futures trading systems. But out of all the futures trading systems available on the Collective2 platform, only FOUR systems have earned the TOS certification and my AlgoTrades system is one of them.
Only 4 Systems on Collective2 are TOS Certified!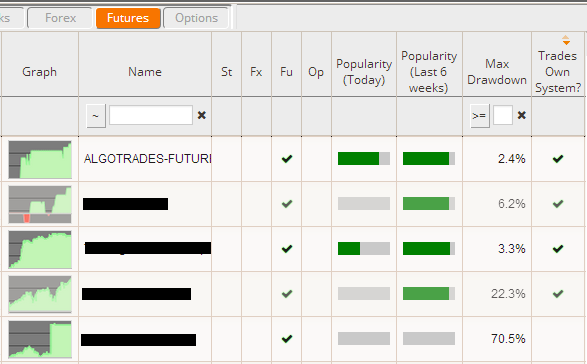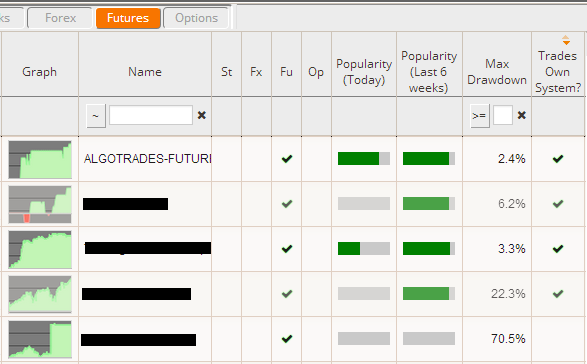 This third party company accurately tracks all systems which are hosted on the C2 platform and if the system creator allows them to have direct access to their live brokerage account through their API system. This certifies systems which are traded by the developer.
Collective2 is the leader the automated trading systems industry. Collective2.com was the first online business to bring retail traders and system developers together to either have other peoples automated trading systems traded live in their account, and/or for system developers to share their systems with other traders and investor for a monthly subscription fee.
Collective2 is an algorithmic trading technology that links individual trader's brokerage accounts with thousands of automated trading systems within the their platform. They are registered with the NFA (National Futures Association), regulated by the CFTC, and is a recognized firm within the financial industry.
Read My Collective2 Review
Chris Vermeulen
Founder of AlgoTrades Systems
http://www.algotrades.net/wp-content/uploads/2014/12/algotrades-logo-tm.png
0
0
Chris Vermeulen
http://www.algotrades.net/wp-content/uploads/2014/12/algotrades-logo-tm.png
Chris Vermeulen
2014-05-22 08:52:58
2014-05-21 14:51:25
Collective2 Gives AlgoTrades-Futures TOS Certification