AlgoTrades Launches Automated ETF Trading System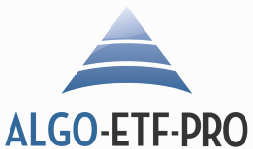 On Tuesday April 1st AlgoTrades went live with their automated ETF trading system for investors. You may have seen their April Fools Video which was unique. This 100% hands-free investing system provides you with an option to have some of your investment capital actively invested like a professional trader so you can profit in rising, falling and even sideways market conditions.
This exchange traded fund system requires less capital and a 62.5% lower subscription fee. Because ETF's trade like stocks and are highly popular and understood by most market participants it makes this automated trading system the perfect fit for you if want to profit in the market no matter if prices are rising or falling. And because its trades none leveraged fund's (SPY & SH) your portfolio volatility is reduced substantially from that of leveraged investments.
The AlgoTrades ETF Trading System is a LFT system (low frequency trading), meaning it only places 30-40 trades each year. It focuses on trading with the market trend and catching the wave like patterns that form each month on the SP500 index.
Conservative trading and money management strategies are the heart of this automated ETF trading system with the casual investor's emotions and investment capital in mind..
What Our Automated ETF Trading System Is Not
Our algorithmic trading strategies are not market-neutral, meaning we do not hedge our position because we seek to profit from the stock market. Instead, our trades are directional and typically in the direction of the major trend, whether price is moving up, down or sideways.
Investing with AlgoTrades carries the risk of loss as does with all investments.
However, we are very conscious and aware of the importance of controlling risk, and believe that trading using our algorithmic trading strategies and automated approach successfully manages risk while seeking attractive returns.
Review System Details & Stats: http://www.algotrades.net/downloads/ALGO-ETF-PRO.pdf
Start Automating Your Trading Today: http://www.algotrades.net/subscribe-algorithmic-trading-system/
Chris Vermeulen
Founder of AlgoTrades Systems
http://www.algotrades.net/wp-content/uploads/2014/12/algotrades-logo-tm.png
0
0
Chris Vermeulen
http://www.algotrades.net/wp-content/uploads/2014/12/algotrades-logo-tm.png
Chris Vermeulen
2014-04-02 10:47:49
2014-04-02 10:51:07
AlgoTrades Launches Automated ETF Trading System