AlgoTrades Clients Celebrate 20% RIO
AlgoTrades Systems – Proven, Logical, Investing for Anyone, Anywhere.
This week our automated trading system closed another winning trade for its clients and myself. We have now made a 20% return on our investment, up over $9,985 each. Some clients started the bare minimum capital required of only $35,000 and they are up a whopping 28.5%
The exciting part is that it's completely hands-free and to top it off we are making money in the market when most others are scared to get involved because they fear a market correction. Little do most people know, its times like this when the easy money is made.
AlgoTrades Press Release On Milestone: Click Here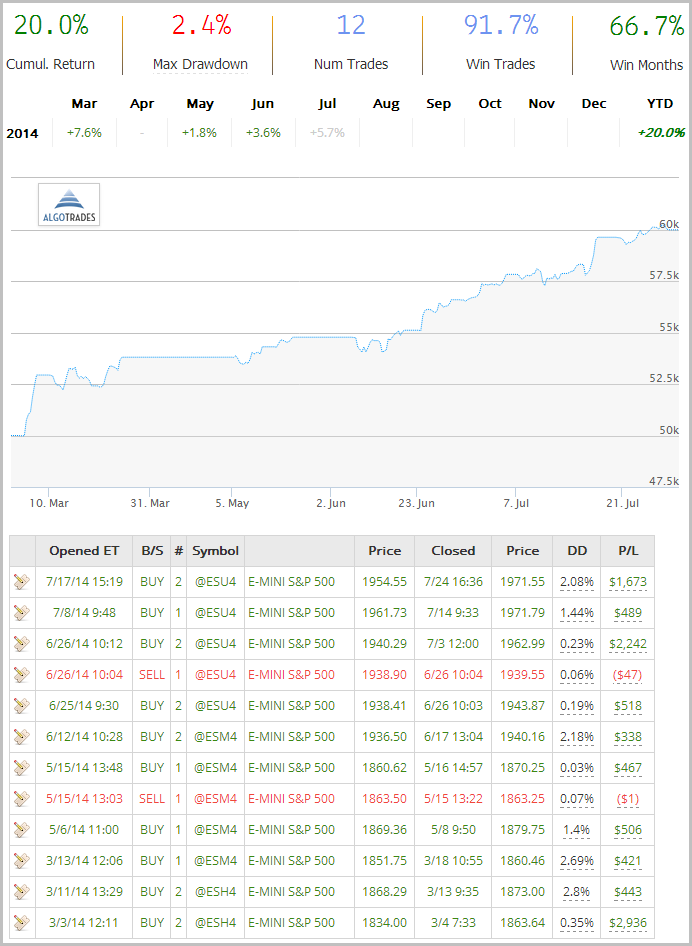 The key to successful investing is being able to keep pace during a rising market (bull market). And to either avoid or profit during market down turns. This is exactly what the AlgoTrades automated trading System does for its clients, myself, and can do for you also.
Not all trading systems are created the equal and you will understand once you watch my recorded webinar about "What You Must Know About Automated Trading Systems".
Now you can access my time-tested, certified automated investing system, which is approved to be traded in your IRA account.
DON'T TRUST YOURSELF OR YOUR ADVISOR WITH ALL YOUR CAPITAL?
10 Reasons to use AlgoTrades
Profit in Bear Markets
Outperform in Bull Markets
Automatic Money Management
100% Hands-Free Investing System
No Software or Monitoring Req.
No Trading Discipline Req.
Reduce Invest Related Stress
More Free Time & Confidence
Diversification for Portfolio
Generate More Income
Still not sure what to do with your investment capital?
The key to successful investing is to limit the amount of time your money is exposed to the market. Cash is king, and it's also a position which most investors do not take. A profitable automated trading system is one that makes more money with the least amount of time that your money is invested in the market.
You want a system that gets in, makes its money, then gets back into cash. Not having to worry what the market does each day is a huge advantage and reduces portfolio volatility. This is exactly what the AlgoTrades automated trading system does for us. Does your advisor do this with your hard earned money?
The AlgoTrades investing system is unlike any other trading system available. It is a LFT system (low frequency trading), which trades the SP500 index futures when risk is low and probabilities of winning are high. AlgoTrades system is like having a professional trader working for you full time but without human errors.
Investors are finally realizing that their money needs to be properly traded for growth. Because of this reliazation among investors, it has flooded our automated ETF trading system with clients over the past couple months, and the reason it became fully subscribed in less than a week.
See press release: http://www.pr.com/press-release/557168
The good news is that we continue to keep our door open to new clients for our main and most profitable algorithmic trading system which is AlgoTrades-Futures.
http://www.algotrades.net/wp-content/uploads/2014/12/algotrades-logo-tm.png
0
0
Chris Vermeulen
http://www.algotrades.net/wp-content/uploads/2014/12/algotrades-logo-tm.png
Chris Vermeulen
2014-07-25 20:25:53
2014-07-26 09:47:50
AlgoTrades Clients Celebrate 20% RIO