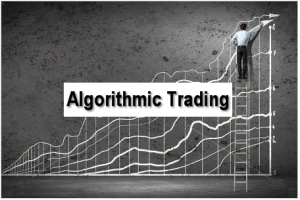 When algorithmic trading (or algo trading) arises in a conversation, you are likely picturing a programming genius with three PhDs glued to six monitors. But that is far from the truth. Almost anyone with a deep understanding of the markets and a technical analysis background can produce their own algorithm to invest their money for them.
In the last year there have been several new online businesses pop-up that allow you create, test and automate, turning your rough idea in to a true algorithmic trading system. This is a new booming segment of the market and it is nowhere near maturity. But what most fail to recognize is that you the user must completely understand how the market works before you can just slap together ideas, backtest and start running your algo trading sytem.
Flaws Of Algorithmic Trading For Retail Investors
There is are lot of flaws with making algorithmic trading for retail investors (the masses) but one I would like to point in this article is about backtesting.
Backtesting algo systems is not as simple as one may think. Sure, you can click the backtest now button and it will spit out results, but can you rally trust those results? The answer is sometimes.
If you are backtesting a daily, weekly or monthly chart strategy then you can bet those results will be nothing like how the system will trade in real-time with your money. The shorter the intraday duration you focus on using the more accurate your results will be given you are not scalping the market for pennies, trading low volume stocks or trading 3+ times a day.
If you fall into one of these categories then be sure you research backtesting thoroughly and contact your software provider to learn about that specific system limitations.
Another catch with trying to build your own algorithmic strategy on your own is that it will likely take you months, quarters or even a year to build something that is actually tradable. And with that comes the industry standard monthly fees which start around $99 and go up to $250 per month depending on the number back tests and algorithms you want to run.
With that being said, Equametrics.com is one company that is leading this market niche and has a solid platform built on the cloud so you can build and test from anywhere in the world.
But what if it was that the newest and most lucrative investing strategy of Wall Street was to have your money automatically invested in your brokerage account using some of the top trading strategies available without having to know anything about algorithmic trading or investing.
If you do not believe us then take a look at our Canadian-based startup AlgoTrades.net.  The brains behind the operation belongs to founder Chris Vermeulen who has been a trader since the age of 16, has deep understanding of how the financial markets move and who runs five successful investing and trading newsletters.
AlgoTrades is simply designed and since its program is fully automated, it doesn't require anything more than an internet connected device to setup your account and have AlgoTrades algorithmic system trading live in your brokerage account.  All a user has to do is select the type of algorithmic trading system they are comfortable having with (futures, Funds, or forex), select the percent of their investing account which they would like automatically invested /traded with the algorithmic trading system and click the automated trading start button.
Each of the algo systems trades only the S&P 500 index. And because they only trade this low volatility index, your portfolio volatility is kept to a minimum which means you do not need to ride the stock market roller coaster ever again. Our long and short systems allow your money to grow in both up and down market conditions. A bonus to our service is the fact that you get diversification, because our algorithmic trading system invests (buying and selling) the top 500 corporations in the world covering most sectors within the financial market place at the same time.
The strategies that are used via AlgoTrades use common sense logic and money management rules that fit the wants and needs of most investors. Minimal drawdowns, winning ratio of 80+% and with a low position turnover of only 1-3 trades per month, users get the best of all three worlds: Trading, Investing, and proper money/position management.
While the company is not a broker, it has partnered with 17+ brokerages to execute the trades for its clients.
Just think, if you've got investment capital not making you much money or sitting in a savings account, then algorithmic trading may be much easier than you thought.
ALGOTRADES – ALGORITHMIC TRADING FOR INDIVIDUAL INVESTORS!
Chris Vermeulen
Technical Traders Ltd.