AmalgaTrader Magazine and Algorithmic Trading Strategy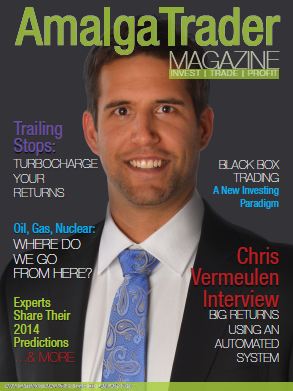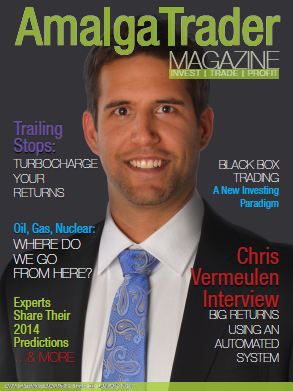 Last year was very exciting for me in terms of my trading strategies as they were converted into a complete algorithmic trading strategy (All-In-One System). What really caught me off guard was how closely people are following what I am building and trading. Rumors spread quickly about this automated trading system it seems every couple of days a brokerage firm and media outlet is contacting me to become a part of this new and exciting way to invest.
To be honest, I am trying to keep what I am doing small and available to you (my followers/subscribers) because this investing program is going to be very limited to the number of investors who can use it with me.
Anyway, to make a long story short, I decided to work with Tony Neumeyer and his new trading magazine AmalgaTrader.
Why? Because I prefer to help and work with fellow entrepreneurs like my and I like to support the underdog.
Tony has put together a fabulous January issue talking about Oil, Gas and Nuclear energy. It also covers how to use trailing stops, hard stops, properly money management. And other interesting topics like automated trading systems and the paradigm shift from financial advisors to black box trading.
This online digital magazine by providing its readers with the benefits to read, listen and/or watch some of the content in the issue. So if you think this is just another magazine, think again.
Tony has given me a special code so you can get this issue free from the apple news stand. In a month or two it will be available for Android and Kindle also…
GET YOUR FREE ISSUE:
The name is: AmalgaTrader and is available currently worldwide via the Apple newsstand, meaning you need an iPad or iPhone. (It will launch on Android and Kindle soon).
STEP 1: You can search for the name on the Apple Newsstand or you can link here: https://itunes.apple.com/us/app/amalgatrader/id719362884?mt=8 and download the App for Free.
STEP 2: Then open the App and click the yellow Subscribe button in the upper right. You will get a pop up. Click on "Current Subscribers" button.
STEP 3: You then get a box that pops up. Enter the code: amalgatr1 and that will activate your subscription to view the current issue free.
I hope you enjoy the read and some positive reviews for this new magazine would be a great help for his magazine.
Sincerely,
Chris Vermeulen
Founder of ALOTRADES.NET
http://www.algotrades.net/wp-content/uploads/2014/12/algotrades-logo-tm.png
0
0
Chris Vermeulen
http://www.algotrades.net/wp-content/uploads/2014/12/algotrades-logo-tm.png
Chris Vermeulen
2014-01-10 15:38:09
2014-11-20 09:55:37
AmalgaTrader Magazine and Algorithmic Trading Strategy